Responding to Weather-Related Challenges in Southern Plains and Texas
BNSF is responding to service challenges caused by another round of heavy rain and severe storms in Oklahoma and Kansas as well as portions of Texas. With several inches of rain received in parts of northern Oklahoma and southeastern Kansas during the past 24 hours, multiple track washouts or high water locations were reported on BNSF subdivisions in the area. Both the Douglass and Arkansas City subdivisions, key route links for traffic moving between the Midwest and Texas, are currently out of service. The Avard Subdivision in Oklahoma is also currently out of service due to high water at Dacoma, Okla., just east of Avard.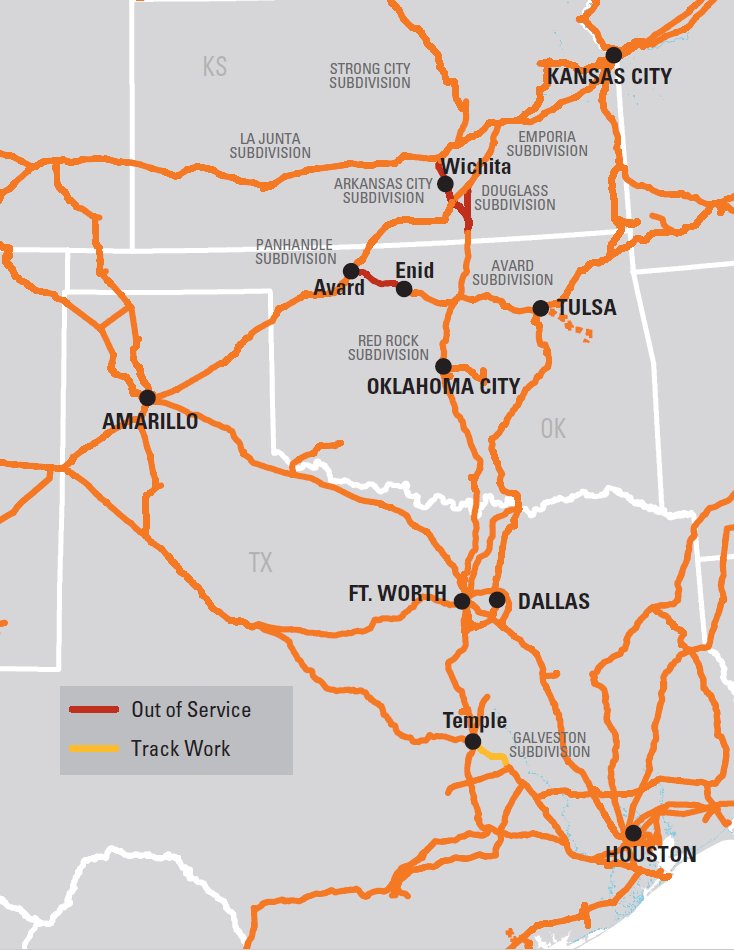 We are also experiencing delays involving traffic designated to move through central Texas on the Galveston Subdivision. Following recent heavy rains in the area, BNSF crews have been conducting ballast replenishment and surfacing work on a segment of our main line located approximately 50 miles southeast of Temple. Speed limitations and other restrictions are currently in place until restoration work is completed.

Customers may experience delays of 24 to 72 hours on shipments moving through these corridors. BNSF is re-routing some traffic around these affected locations to minimize disruptions. We currently estimate that service on the Avard Subdivision will be restored later today. Restrictions on the Galveston Sub are also expected to ease by this evening pending additional track inspections.

If you have any questions regarding your shipment(s), please contact BNSF Customer Support at 1-888-428-2673.

We will continue to provide customers with further updates.