Industrial Products Network Update for April 26, 2019
Operational Performance
BNSF teams have made considerable progress in restoring service through areas of the Midwest impacted by unprecedented flooding. The Omaha Subdivision fully reopened on April 12. In just 29 days, BNSF engineers and contractors removed a destroyed three-span bridge, constructed a new bridge over the Platte River and restored service through the nearly 10-mile portion of the subdivision running between Omaha and Oreapolis, Nebraska.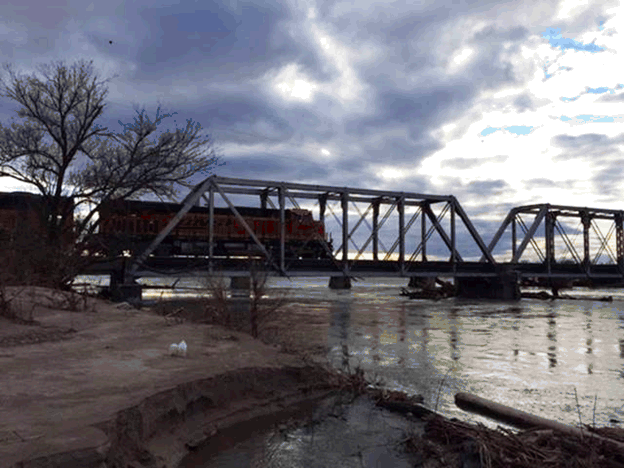 First BNSF train moves across new bridge on Omaha Subdivision - April 12, 2019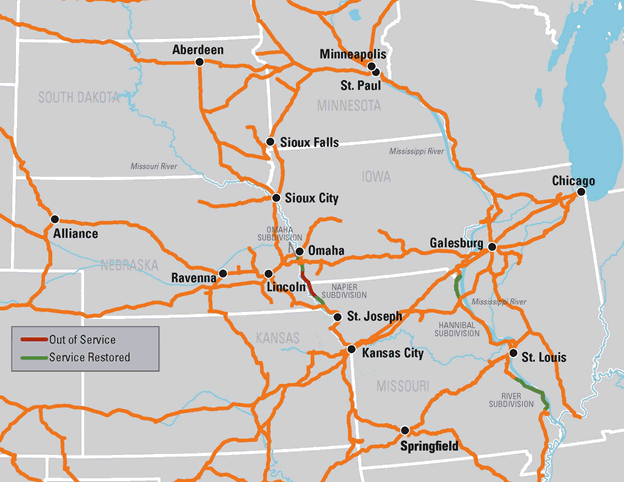 Service was also restored this week on portions of both the Hannibal and River Subdivisions. Restoration work continues on multiple portions of the Napier Subdivision, running between Pacific Junction, Iowa and Napier, Missouri. With the loss of a bridge and new lake created by the flooding, crews are constructing a new 3,000-foot causeway on the Napier to reestablish our main line through the area. We currently estimate work on the subdivision to be completed in late May.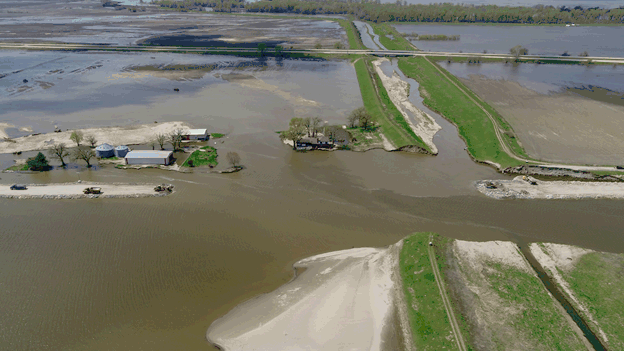 Causeway construction on Napier Subdivision near Bartlett, IA - April 25, 2019

Thanks to the tireless efforts by our BNSF teams and contractors, service performance is improving as train flows on the network continue to normalize. Velocity for both cars and trains has increased significantly during the past two weeks, terminal dwell has been reduced and the number of trains holding is down by more than 40 percent from the beginning of the month. With this positive momentum, we remain focused on generating additional improvement in the weeks to come.

Service Expectations for the Week Ahead
BNSF operations teams continue to monitor water levels in flood-prone areas, particularly in northern Missouri along the Mississippi River where levels may rise slightly into early next week. The portion of the Hannibal Subdivision which returned to service yesterday may be required to close again due to flood gate closures.

During the upcoming week, an active weather pattern will bring periods of heavy rain and storms to portions of the southern Plains. As always, BNSF teams are monitoring conditions and are ready to quickly respond to any service disruptions. Other areas of the BNSF network will experience favorable operating conditions as we move into May.

Below is a look at the key operational performance categories for the week ending April 25:

Total trains held for the week increased by nearly two percent with an average of 125.7 trains held versus 123.6 trains held during the prior week.
Versus the March 2019 average: down by 40.8%
Versus the April 2018 average: up by 13.9%

Total trains on the system was essentially unchanged versus the prior week with an average of 1,589 trains on the system.
Versus the March 2019 average: up by 5.2%
Versus the April 2018 average: up by 2.8%

Car velocity, measured in miles per day (MPD), was up by more than three percent at 197.7 MPD versus 191.5 MPD recorded the prior week.
Versus the March 2019 average: up by 14.9%
Versus the April 2018 average: down by 6.2%

Train velocity, measured in miles per hour (MPH), was up by nearly two percent versus the prior week at 16.4 MPH.
Versus the March 2019 average: up by 9.3%
Versus the April 2018 average: down by 7.8%

Total volume increased by nearly five percent from the prior week with 201,661 units moved in Week 16 (ending April 20) versus 192,366 units in Week 15 (ending April 13).

Terminal dwell decreased by more than four percent versus the prior week at 26.7 hours.
Versus the March 2019 average: down by 7.6%
Versus the April 2018 average: up by 4.5%

As always, we thank you for your business and appreciate the opportunity to serve as your transportation service provider. We welcome your feedback and questions.