Coal Network Update for June 21, 2019
Operational Performance
BNSF teams remain focused on service restoration efforts involving track outages caused by the record flooding in the Midwest. Water levels of the major rivers in the area have continued to slowly recede during the past two weeks. The Mississippi River in the Quad Cities area dropped below flood stage on Wednesday after 96 days, which exceeds the previous record at this location of 42 days set in 2011 and 1993. Flood gates in some locations, including Keokuk, Iowa and Canton, Missouri, have been removed this week.

Four BNSF subdivisions (Napier, Hannibal, Brookfield, River) remain either partially or fully out of service with washouts or water over the rails in multiple locations. As conditions have improved north of St. Louis, BNSF engineering crews are making significant progress in reopening out of service segments on both the Brookfield and Hannibal subdivisions.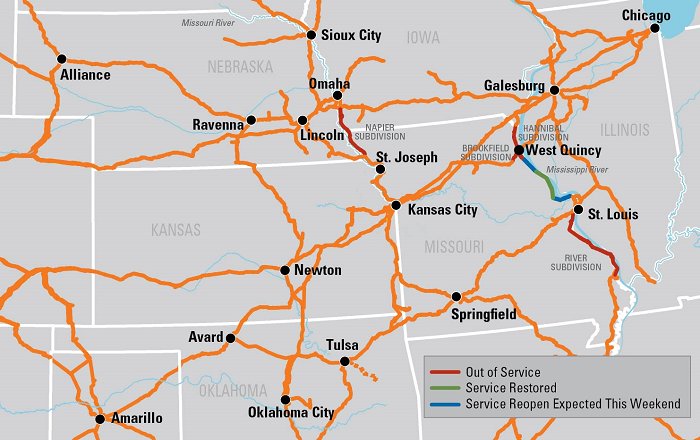 Following track inspections, more than 50 miles of the Hannibal Subdivision, between West Quincy, Mo. and St. Louis, was returned to service yesterday, with another nearly 46 miles expected to reopen this weekend. Crews are working as aggressively as possible to fill washouts and re-surface track in other affected portions of the subdivision. The remaining out of service segments of the Hannibal Subdivision are expected to reopen in early July, along with the nearly 15-mile closed segment of the Brookfield Subdivision near West Quincy, Mo. The River Subdivision, running adjacent to the Mississippi River south of St. Louis, is estimated to reopen by mid-July.

On the Napier Subdivision, between Pacific Junction, Iowa and Napier, Missouri, recent levee breaches caused renewed flood issues in northwestern Missouri. These aerial videos (first video, second video), captured this past Sunday, highlight the extent of the flooding along a nearly 10-mile span of our main line in this area as well as our track restoration efforts.

Given the extent of this ongoing flooding and the necessary track repairs, we currently estimate service restoration of the entire Napier Subdivision in late July.

BNSF operations teams are working tirelessly to drive service improvement throughout the network, which includes matching crew and equipment resources with train flows as effectively as possible. Overall velocity for both cars and trains was up versus the prior week. While significantly reduced from the levels reported in May, the number of trains holding remains slightly above the average for the previous June. During the previous week (through June 15), total volume moved by the railroad exceeded 200,000 units for the seventh time in 2019.

Service Expectations for the Week Ahead
An active weather pattern for the central U.S. will bring more chances for storms and heavy rain through the weekend. Additional major rainfall or storm events may cause delays to current service restoration estimates. Mainly dry conditions are expected for the region through much of next week. Water levels of the Mississippi and Missouri rivers are forecast to continue receding during the upcoming week, with most locations down to minor flood stage.

Major maintenance activity continues in several locations across the network, particularly along our Northern Transcon route in Montana. Some trains may experience delays and/or speed reductions through areas where maintenance work windows are in effect. As always, our teams are constantly evaluating all available options to mitigate these potential delays as much as possible.

Below is a look at the key operational performance categories for the week ending June 20:

Total trains held for the week decreased by nearly one percent with an average of 133.1 trains held versus 134.4 trains held during the prior week.
Versus the May 2019 average: down by 13.4%
Versus the June 2018 average: up by 3.7%

Total trains on the system increased by nearly one percent versus the prior week with an average of 1,545 trains on the system.
Versus the May 2019 average: down by 0.4%
Versus the June 2018 average: down by 3.1%

Car velocity, measured in miles per day (MPD), was up by nearly one percent at 196.3 MPD versus 194.6 MPD recorded the prior week.
Versus the May 2019 average: up by 1.3%
Versus the June 2018 average: down by 4.9%

Train velocity, measured in miles per hour (MPH), was up by two percent versus the prior week at 16.0 MPH.
Versus the May 2019 average: up by 0.7%
Versus the June 2018 average: down by 6.3%

Total volume increased by more than four percent from the prior week with 201,552 units moved in Week 24 (ending June 15) versus 193,382 units in Week 23 (ending June 8).

Terminal dwell increased by nearly three percent versus the prior week at 26.8 hours.
Versus the May 2019 average: up by 1.0%
Versus the June 2018 average: up by 4.1%

As always, we thank you for your business and appreciate the opportunity to serve as your transportation service provider. We welcome your feedback and questions.

Note: With the upcoming July 4 holiday, the next Network Update will be distributed next Friday, June 28 rather than Friday, July 5. We will resume our regular biweekly schedule on Friday, July 12.