Automotive Network Update for August 9, 2019
Operational Performance
BNSF operating teams remain focused on improving network fluidity and effectively balancing resources, including crews and equipment, with train flows. Overall velocity for cars and trains were each steady with levels from the previous week. While slightly higher versus the prior week, the total number of trains held is down by more than 13 percent versus the July average. Total volume moved on the railroad exceeded 200,000 units for the fourth straight week.

Maintenance activity on the network continues in multiple areas, including the Red Rock Subdivision running through central Oklahoma as well as on the Emporia Subdivision southwest of Kansas City. Some trains have experienced delays due to scheduled daily work windows. Track repair work on the Galveston Subdivision on Tuesday also caused some slowdowns for traffic moving between Fort Worth and Houston/Gulf Coast. As always, our operating teams evaluate and utilize available options to mitigate delays from this activity as much as possible.

BNSF engineering crews were also active on the Fallbridge Subdivision as a new bridge was placed into service on Monday over the Wind River in Home Valley, Washington. Rather than being constructed on site, the new bridge span was transported by barge more than 60 miles down the Columbia River from Portland. Disruptions due to the 36-hour work window required to install the new span were minimized by utilizing alternate routes for some traffic.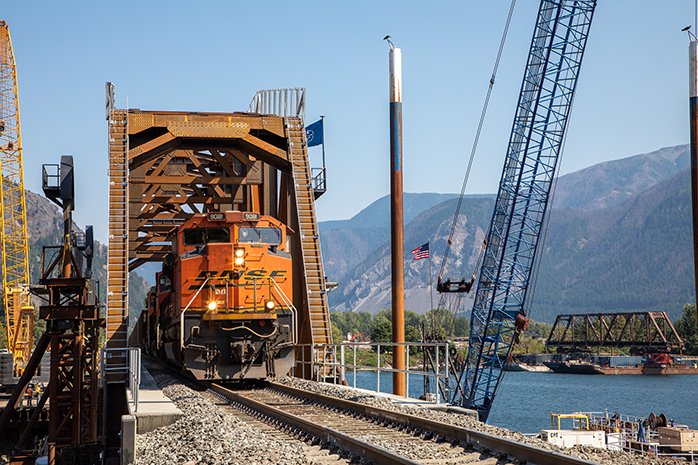 First BNSF train crossing new bridge in Home Valley, Wash. - August 5, 2019


This completed project, which included another bridge replaced approximately 10 miles west on the subdivision back in June, is part of BNSF's Bridge Maintenance Program. Under the program, bridges across the network are replaced based on their condition and as they near the end of their useful life. With 13,000 bridges on our network, BNSF conducts comprehensive inspections and significant maintenance work throughout the year to ensure that each bridge remains safe, secure and structurally sound.

Service Expectations for the Week Ahead
No significant service interruptions due to weather are expected during the upcoming week. Major maintenance projects, such as rail/tie replacement and track surfacing, remain ongoing across multiple areas of the BNSF network. Some trains may experience delays due to daily work windows in several locations.

Below is a look at the key operational performance categories for the week ending August 8:

Total trains held for the week increased by nearly two percent with an average of 120.1 trains held versus 118.0 trains held during the prior week.
Versus the July 2019 average: down by 13.1%
Versus the August 2018 average: down by 9.6%

Total trains on the system decreased by more than two percent versus the prior week with an average of 1,542 trains on the system.
Versus the July 2019 average: down by 0.2%
Versus the August 2018 average: down by 5.4%

Car velocity, measured in miles per day (MPD), was essentially unchanged at 196.8 MPD versus 196.7 MPD recorded the prior week.
Versus the July 2019 average: up by 1.4%
Versus the August 2018 average: down by 2.0%

Train velocity, measured in miles per hour (MPH), was up by nearly one percent versus the prior week at 16.4 MPH.
Versus the July 2019 average: up by 3.2%
Versus the August 2018 average: down by 1.7%

Total volume increased by less than one percent from the prior week with 205,372 units moved in Week 31 (ending August 3) versus 204,660 units in Week 30 (ending July 27).

Terminal dwell was essentially unchanged versus the prior week at 26.1 hours.
Versus the July 2019 average: down by 0.8%
Versus the August 2018 average: up by 0.4%

As always, we thank you for your business and appreciate the opportunity to serve as your transportation service provider. We welcome your feedback and questions.