Agricultural Products Network Update for May 24, 2019
Operational Performance
Flooding from severe weather continues to impact parts of the BNSF network in the central and southern Plains. Repeated heavy rain and storms this week have caused track outages on multiple subdivisions in Missouri, Kansas and Oklahoma. With several extensive washouts, portions of the Arkansas City, Douglass subdivisions south of Wichita as well as the Cherokee Subdivision east of Tulsa were forced out of service on Tuesday.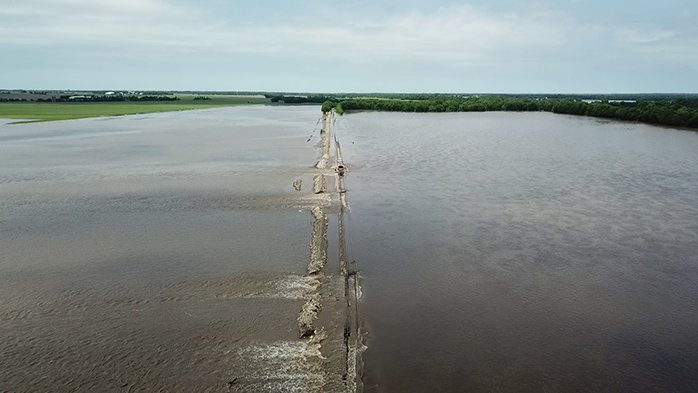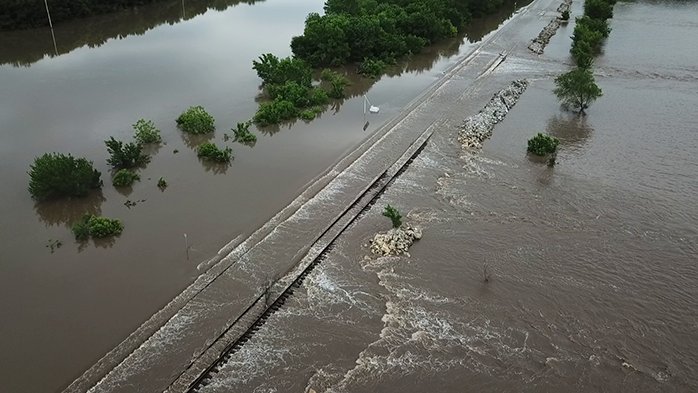 Flooding on the Arkansas City Subdivision near Winfield, Kan. - May 22, 2019


Water levels are still rising in some locations, and additional outages have occurred during the past 24 hours affecting portions of the Cherokee Subdivision in northeastern Oklahoma, the Ft. Scott Subdivision, between Kansas City and Springfield, Mo., and the Afton Subdivision, our north-south main line connecting the Cherokee and Ft. Scott subdivisions.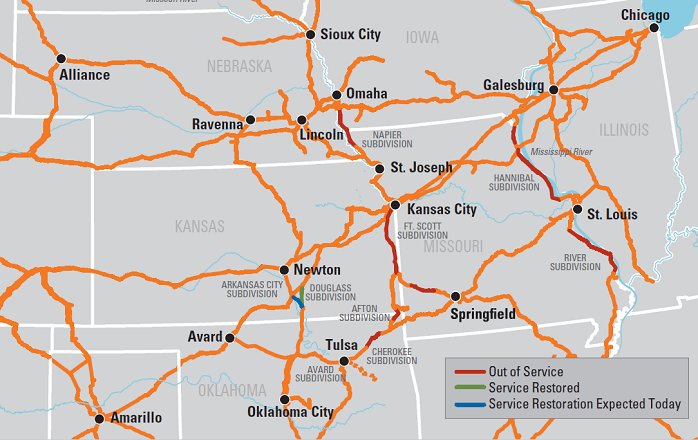 As we reported, BNSF operations teams have been re-routing some trains in response to the flood-related outages. Thanks to the hard work of our engineering teams and contractors, service was restored on the Douglass Subdivision last night, and we currently estimate reopening the Arkansas City Subdivision this evening. The restoration of service on these two subdivisions will improve traffic flows between Chicago and locations in Texas.

There is no current estimate on when the affected segments of the Cherokee, Ft. Scott and Afton subdivisions will reopen as BNSF continues to evaluate track conditions. Customers with shipments designated to move through these areas should expect ongoing delays and extended transit times until service is fully restored. Service is also at risk along a portion of the Avard Subdivision near Tulsa as water releases from the nearby Keystone Dam will continue through the weekend.

In Missouri, high water levels continue to restrict service on our Hannibal and River subdivisions adjacent to the Mississippi River. Flood gates are up in several locations, which effectively closes off sections of our main line to rail service. The Hannibal Subdivision, between Keokuk, IA and La Grange, Mo., is expected to remain closed through next week. Another segment of the Hannibal Subdivision, between Dundee and Mark, Mo., may reopen as early as Tuesday. Additional rainfall or storm events in this region, however, may cause further delays to service restoration.

The River Subdivision between Crystal City and Cape Girardeau, Mo. remains out of service as water levels through this area south of St. Louis are running well above flood stage. Based on current forecasts, there is no estimate on when this portion of the subdivision will reopen as BNSF continues to evaluate track conditions.

For more information on BNSF flood recovery efforts, including the latest service outages map and list of embargoed destinations, please visit our flood recovery webpage: www.bnsf.com/floodrecovery.

The ongoing flood issues continue to negatively impact service performance through the core of the BNSF network. Overall velocity for both cars and trains was down versus the prior week while the average number of trains holding remains at an elevated level. During the previous week (through May 18), Total volume moved by the railroad exceeded 200,000 units for the sixth time in 2019.

Memorial Day Holiday Operating Plan
Memorial Day is not a recognized shuttle holiday. BNSF will continue to operate agricultural trains according to normal schedules, however, connecting carriers who have reduced operations for the holiday may cause delays on interline traffic.

Service Expectations for the Week Ahead
The stagnant weather pattern will bring more chances for storms and heavy rain through the central U.S. into next week. Many locations in the region have already received more than double their normal rainfall for the month. BNSF operations teams are closely monitoring flood-prone areas and will respond as aggressively as possible to any additional service disruptions.

Maintenance crews are also very active this time of year, with major projects taking place in multiple areas of the network. Ongoing rail replacement and surfacing work in western Montana on the Hi Line Subdivision, part of our Northern Transcon route, has caused some delays to traffic due to scheduled daily work windows. We appreciate your patience as this work is essential in supporting the safety and efficiency of the network.

Below is a look at the key operational performance categories for the week ending May 23:

Total trains held for the week increased by more than 10 percent with an average of 143.6 trains held versus 129.6 trains held during the prior week.
Versus the April 2019 average: up by 3.8%
Versus the May 2018 average: up by 28.0%

Total trains on the system decreased by nearly three percent versus the prior week with an average of 1,528 trains on the system.
Versus the April 2019 average: down by 4.3%
Versus the May 2018 average: down by 1.8%

Car velocity, measured in miles per day (MPD), was down by nearly three percent at 194.1 MPD versus 200.1 MPD recorded the prior week.
Versus the April 2019 average: up by 1.6%
Versus the May 2018 average: down by 8.2%

Train velocity, measured in miles per hour (MPH), was down by nearly one percent versus the prior week at 16.2 MPH.
Versus the April 2019 average: up by 2.7%
Versus the May 2018 average: down by 7.8%

Total volume increased by more than two percent from the prior week with 200,090 units moved in Week 20 (ending May 18) versus 195,443 units in Week 19 (ending May 11).

Terminal dwell was essentially unchanged versus the prior week at 26.5 hours.
Versus the April 2019 average: down by 3.2%
Versus the May 2018 average: up by 5.2%

As always, we thank you for your business and appreciate the opportunity to serve as your transportation service provider. We welcome your feedback and questions.