Agricultural Products Network Update for March 29, 2019
BNSF teams across multiple departments remain engaged in a coordinated, around-the-clock effort to restore service in southeastern Nebraska as well as portions of Iowa and Missouri. As we have updated, multiple subdivisions were forced out of service nearly two weeks ago due to widespread flooding. Water levels rose quickly to record levels triggered by a strong storm that brought heavy rain and warmer temperatures to parts of the region, which accelerated snowmelt and contributed to ice jams on some rivers.

Embargoes were issued in response to many destinations in the area inaccessible to rail traffic. With segments of key east-west and north-south routes unavailable, there have been significant negative impacts on network operational performance, including reductions in velocity and a substantial increase in train delays. We have utilized re-route options as much as possible to minimize the disruption to traffic flows.

As flood waters continue to recede in most locations, we reopened a key portion of our Creston Subdivision overnight, which restores an integral link in our network between Nebraska and Iowa across Missouri River and will improve train movements to/from the Chicago area. The St. Joseph Subdivision, another critical link connecting Lincoln, Nebraska and Kansas City, is expected to be fully reopened this weekend. We also expect to reopen the Council Bluffs Subdivision, which runs between Council Bluffs, Iowa and Pacific Junction, where it intersects with the Creston and Napier Subdivisions, this weekend.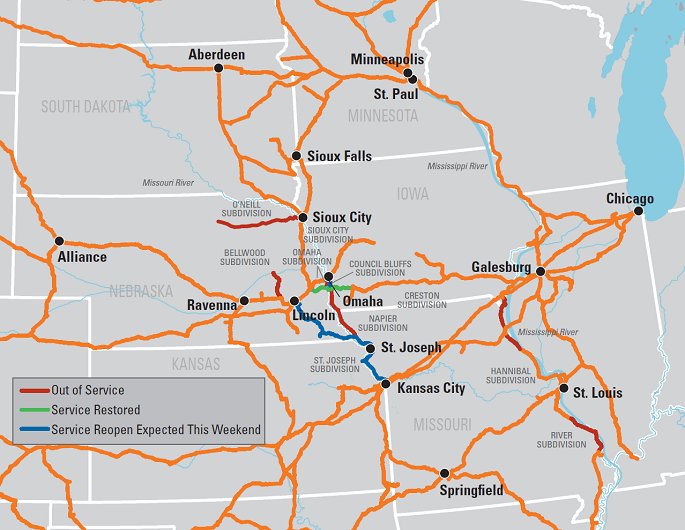 Since the first service outages were reported, employees and contractors have worked as aggressively as possible to address impacted subdivisions and make necessary repairs. More than 100,000 net tons of rip rap (a type of rock used for railroad ballast) and aggregate material have already been used to restore washed out sections of track. This short video highlights what we have confronted and the unprecedented response by our teams in the region.

On our flood recovery webpage, www.bnsf.com/floodrecovery, we continue to post daily updates to the service outages map, the latest flood-related embargo information, and we added a link to a photo gallery of our flood recovery work. BNSF engineering teams, continue to monitor water levels in several other locations along the Mississippi River for potential future outages.

Service Expectations for the Week Ahead
Given the duration of service outages in the Midwest and resulting backlogs, customers should expect lingering delays until traffic flows gradually normalize through the area. Two more subdivisions: Bellwood (Columbus to Seward, Neb. near Lincoln) and O'Neill (O'Neill, Neb. - Sioux City, IA) are currently estimated to reopen next week. BNSF will continue to provide customers with further updates.

Below is a look at the key operational performance categories for the week ending March 28:

Total trains held for the week increased by nearly 15 percent with an average of 265.9 trains held versus 231.6 trains held during the prior week.
Versus the March 2018 average: up by 149.6%

Total trains on the system was down by nearly two percent versus the prior week with an average of 1,441 trains on the system.
Versus the March 2018 average: down by 7.7%

Car velocity, measured in miles per day (MPD), was down by nearly four percent at 164.0 MPD versus 170.7 MPD recorded the prior week.
Versus the March 2018 average: down by 23.5%

Train velocity, measured in miles per hour (MPH), was down by more than two percent versus the prior week at 14.7 MPH.
Versus the March 2018 average: down by 19.5%

Total volume increased by nearly five percent from the prior week with 187,957 units moved in Week 12 (ending March 23) versus 179,274 units in Week 11 (ending March 16).

Terminal dwell was up by less than one percent versus the prior week at 28.3 hours.
Versus the March 2018 average: up by 9.7%

As always, we thank you for your business and appreciate the opportunity to serve as your transportation service provider. We welcome your feedback and questions.