Agricultural Products Network Update for June 7, 2019
Operational Performance
BNSF continues to address flood-related track outages that have caused ongoing service challenges in the Midwest. Much of the region, including Kansas, Missouri and Nebraska, experienced their wettest May on record. Some locations, including Chicago, also recorded their second wettest spring. With this significant rainfall, water levels of many rivers in the area, particularly the Mississippi and Missouri, are in major flood stage status.

Service was fully restored on our Council Bluffs Subdivision running between Council Bluffs, Iowa, located across the Missouri River from Omaha, Neb., and Pacific Junction, IA earlier today. Four BNSF subdivisions remain either partially or fully out of service with washouts or water over the rails in multiple locations. Several levee breaches that occurred along the Hannibal Subdivision in northern Missouri last week have negatively impacted service restoration efforts in the area. Some interchange traffic has also experienced delays and extended transit times due to flood-related outages on other rail carrier lines.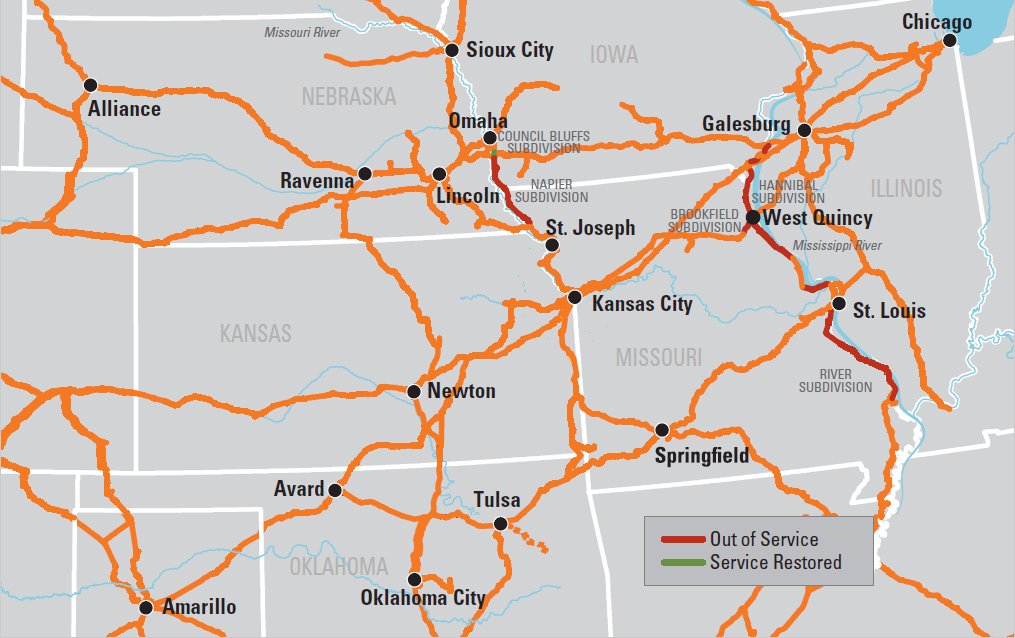 BNSF engineering teams are responding to outage locations with the necessary resources to restore service as quickly as possible as well as shore up other at-risk locations to mitigate any potential impacts. Favorable operating conditions in much of the Midwest during the past few days have assisted with efforts to normalize train flows and improve network efficiencies. While still elevated, the average number of trains holding has been reduced significantly from the levels recorded earlier in the week.

While many crews have been dedicated to flood recovery efforts, capital expansion work has progressed in other areas of the BNSF network. Two significant projects were recently completed, one on our Southern Transcon in California and another north of Houston, TX, which will provide increased capacity and improved efficiency.

At Needles, Calif., new quadruple main track is in service and facilitating greater throughput through this busy section of the Transcon. In Texas, we completed a new 10,000-foot siding at Dobbin, TX, complementing a new connection there between our Houston and Conroe Subdivisions that was completed last year. Both the new siding and the connection will help facilitate growing traffic flows between the Dallas-Ft. Worth area and Houston/Gulf Coast.

BNSF has allocated approximately $760 million of our 2019 capital plan for network expansion and efficiency projects. We look forward to highlighting other projects scheduled for completion this year and the benefits they will provide to our customers in subsequent updates.

Service Expectations for the Week Ahead
Favorable operating conditions and mainly dry weather is forecast throughout the Plains and Midwest during the week ahead. Water levels are expected to continue receding in locations along the upper portions of the Missouri and Mississippi rivers.

Maintenance work is also ongoing on the BNSF network, including surfacing and track undercutting projects taking place on the Milk River Subdivision between Havre and Glasgow, Montana. Some trains delays are possible during scheduled daily work windows. We appreciate your patience as this work is essential in supporting the safety and efficiency of the network.

Below is a look at the key operational performance categories for the week ending June 6:

Total trains held for the week decreased by more than five percent with an average of 183.0 trains held versus 192.3 trains held during the prior week.
Versus the May 2019 average: up by 19.0%
Versus the June 2018 average: up by 42.5%

Total trains on the system decreased by more than one percent versus the prior week with an average of 1,470 trains on the system.
Versus the May 2019 average: down by 5.2%
Versus the June 2018 average: down by 7.8%

Car velocity, measured in miles per day (MPD), was down by nearly two percent at 184.9 MPD versus 188.3 MPD recorded the prior week.
Versus the May 2019 average: down by 4.6%
Versus the June 2018 average: down by 10.4%

Train velocity, measured in miles per hour (MPH), was essentially unchanged versus the prior week at 15.2 MPH.
Versus the May 2019 average: down by 4.7%
Versus the June 2018 average: down by 11.4%

Total volume decreased by more than six percent from the prior week with 185,481 units moved in Week 22 (ending June 1) versus 197,410 units in Week 21 (ending May 25).

Terminal dwell was down by more than one percent versus the prior week at 26.5 hours.
Versus the May 2019 average: unchanged
Versus the June 2018 average: up by 3.1%

As always, we thank you for your business and appreciate the opportunity to serve as your transportation service provider. We welcome your feedback and questions.