Agricultural Products Network Update for April 12, 2019
Operational Performance
Another strong storm moving through the northern Plains created some challenging operating conditions during the past 24 hours. Heavy snow, more than two feet in some areas, and high winds across the eastern Dakotas and into Minnesota caused some train delays, with BNSF crews responding to downed power lines across our tracks in a few locations. Additional resources were pre-positioned in advance of the storm, and personnel have been managing an around-the-clock response to any service issues. Any lingering issues should be resolved quickly as the storm clears the region.

Despite the storm, operational performance is improving as we are making steady progress in restoring service impacted by last month's record flooding. Overall velocity for both cars and trains increased while the number of trains holding was significantly reduced versus the previous week. BNSF operating teams are focused on generating greater throughput and efficiencies as train flows on the network come back into balance.

As our flood recovery efforts continue, we expect to reopen a segment of the Omaha Subdivision, running between Omaha and Oreapolis, Nebraska, this evening. We also currently estimate a reopening of the impacted portion of the River Subdivision between St. Genevieve and Cape Girardeau, Mo. next week.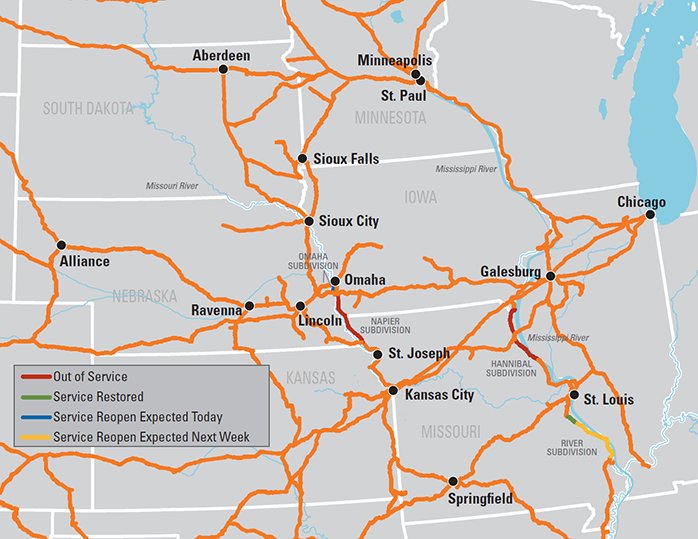 The Hannibal Subdivision, which runs adjacent to the Mississippi River north of St. Louis, remains out of service due to flood gate closures. Extensive reconstruction work is taking place on the Napier Subdivision, running between Pacific Junction, Iowa and Napier, Mo., will necessitate an extended outage.

We continue to update our flood recovery webpage, www.bnsf.com/floodrecovery, with the latest information on our recovery efforts, including new photos and changes to the flood-related embargoes currently in place. There is also information available on the page on how to update your subscriptions to various BNSF customer notifications you can receive.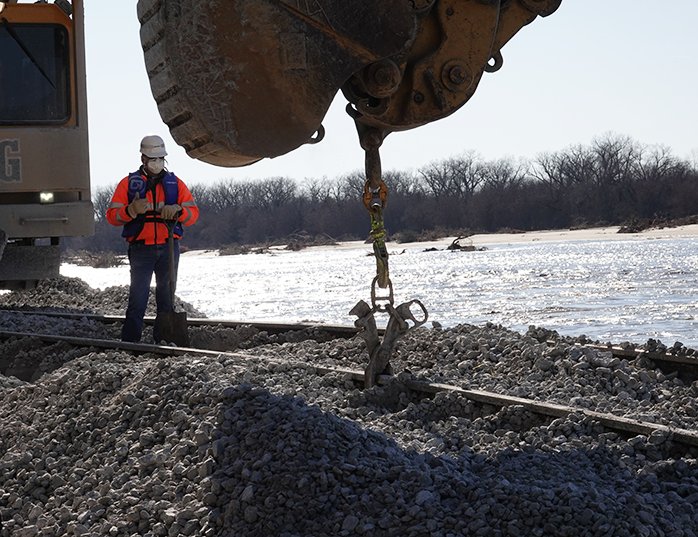 All of us at BNSF understand the major disruptions to supply chains that this major flooding event has caused, and we are committing all the necessary resources to return service to the level you expect from us as quickly as possible.

Service Expectations for the Week Ahead
Following this storm, we currently expect only a modest rise in water levels in various flood-prone locations across the Plains as temperatures rise slowly during the next several days. Most areas of the BNSF network will experience favorable operating conditions during the upcoming week with no major storms expected at this time.

Below is a look at the key operational performance categories for the week ending April 11:

Total trains held for the week decreased by more than 31 percent with an average of 151.1 trains held versus 220.4 trains held during the prior week.
Versus the April 2018 average: up by 36.9%

Total trains on the system was up by nearly two percent versus the prior week with an average of 1,592 trains on the system.
Versus the April 2018 average: up by 3.0%

Car velocity, measured in miles per day (MPD), was up by nearly eight percent at 187.2 MPD versus 174.0 MPD recorded the prior week.
Versus the April 2018 average: down by 11.2%

Train velocity, measured in miles per hour (MPH), was up by nearly 10 percent versus the prior week at 15.8 MPH.
Versus the April 2018 average: down by 11.5%
Total volume increased by nearly two percent from the prior week with 185,989 units moved in Week 14 (ending April 6) versus 182,897 units in Week 13 (ending March 30).

Terminal dwell was essentially unchanged versus the prior week at 28.0 hours.
Versus the April 2018 average: up by 9.9%

As always, we thank you for your business and appreciate the opportunity to serve as your transportation service provider. We welcome your feedback and questions.